I found this recipe, and I doctored it a little bit to be better. I'm also going to play with other veggies in it...maybe peppers and onions ;)
This recipe Makes 4 Servings, and it is 1 point per serving, which is a good amount. Very Very Yummy! Spray the Pan with Pam real good between each Fritter.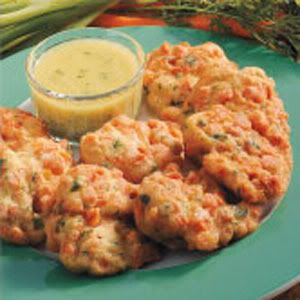 Carrot Fritters
Serving Size : 4
Amount Measure Ingredient -- Preparation Method
-------- ------------ --------------------------------
6 cups water
2 1/2 cups carrots -- finely chopped
1/4 cup flour, all-purpose
1/4 teaspoon salt
1/4 teaspoon pepper
1/2 cup egg beaters® 99% egg substitute
3 tablespoons skim milk
2 tablespoons onion -- finely chopped
1 tablespoon dried parsley
In a saucepan, bring water to a boil. Add carrots; cover and boil for 3 minutes. Drain and immediately place carrots in ice water. Drain and pat dry.
In a large bowl, combine the flour, salt and pepper. Combine egg beaters and milk; stir into the flour mixture until smooth. Stir in the onion, parsley and carrots.
In an electric skillet, heat 1/4 in. of oil over medium heat. Drop batter by 1/3 cupfuls; press lightly to flatten. Fry until golden brown, about 2 minutes on each side.
- - - - - - - - - - - - - - - - - - -
Per Serving (excluding unknown items): 83 Calories; trace Fat (2.9% calories from fat); 5g Protein; 16g Carbohydrate; 3g Dietary Fiber; trace Cholesterol; 222mg Sodium.